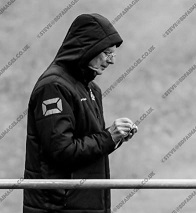 Photograph (c) Steven Harris 2019
12.12.20. Senior Trophy. Ham Rec 3 Wimborne Development 2 Rec returned to action following their enforced break, but were more than a little fortunate to get through this cup-tie. A talented, young Wimborne side led twice and matched Rec in all departments. It took a penalty five minutes from time to book Rec's place in the next round.
The visitors saw an early free-kick fly over the bar, before taking the lead on 7 minutes with a neat, low finish in the area, following a mistake in the home defence. George Webb went close to equalising, but had his shot blocked and then headed over. Todd Coombs' shot from close-range was blocked, before Wimborne hit a good chance over the bar.
But on the half-hour Rec were level. George Webb played in brother JOHN WEBB, who finished coolly for 1-1.
The young Magpies were looking dangerous on the break and regained the lead on 40 minutes, when a speculative shot from inside the area squirmed through the hands of home keeper Aaron Robertson, at the near-post, to make it 1-2 at the break.
The young Wimborne keeper, who had impressed in the first half, was in early action, saving a goalbound shot, before Rec's best move saw George Webb set Carl Edwards away on the right, but his deep cross was blazed over by John Webb.
Rec made it 2-2 on 65 minutes when a George Webb free-kick produced a scramble in the box, with the ball eventually falling for JOHN WEBB to thump in his second of the game.
Carl Edwards was denied by another good save by the keeper and then by a great defensive tackle, as he was poised to shoot. Robertson made amends for his previous error with a brave save at the feet of an attacker, as the visitors looked for a winner.
But five minutes from time Rec were awarded a penalty for a foul in the box and up stepped GEORGE WEBB to drill home the spot-kick and put Rec, rather luckily, into round three. FT 3-2.
24.10.20. League. Ham Rec 3 Blandford Utd 2 Abandoned after 61 minutes.
For the first time in recent memory Rec had a game abandoned at Magna Road, because of the weather. The match was evenly poised when, on the hour, rain of biblical proportions came down for fifteen minutes. The referee took the teams off for ten minutes, but following an inspection, it was deemed unplayable.
Rec started brightly without going too close to a goal. Ash Boyt was unlucky with a thunderous shot crashing against the bar, following a good interchange with George Webb. But on 22 minutes Rec went in front. GEORGE WEBB played a short corner to brother John, received the ball back, cut in and drilled a glorious shot high into the roof of the net, to put Rec one up. Carl Edwards almost doubled the lead when he burst into the box, but his effort was beaten away by Ford, in the visiting goal.
But Rec's lead was short-lived when on 27 minutes a mistake in the home defence let Blandford in for a well taken equaliser - 1-1.
Rec had a goal disallowed for offside and the Royals saw a free-kick go just over, before Rec regained the lead on 37 minutes. EDWARDS was in the right place to stab his shot past Ford, to make it 2-1. Todd Coombs saw his free-kick go narrowly wide and then his long-range shot was saved by Ford. HT 2-1.
Rec got off to a perfect start to the second period when, in the first minute, SAM THOMPSON was on hand to head home from close-range, to make it three.
Blandford were still looking very capable and reduced the arrears on 52 minutes with a great left-footed finish from the edge of the area, into the top corner and things could have been level, but for a timely defensive block by Dave Legg.
But on the hour the heavens opened forcing the abandonment, much to the disappointment of a large crowd, looking forward to what should have been a keenly fought final thirty minutes.
17.10.20. League. Westland Sports 1 Ham Rec 0
A long and fruitless journey to Yeovil for Rec as they succumbed to a 1-0 defeat at Westlands. It was a game of very few chances, with Rec failing to have an attempt of note on target. The only goal came just before half-time for the hosts, who held the upper hand for most of the game and repelled most Rec attempts without too much concern.
Westlands started strongly and were on top, without really creating too many chances. But Rec settled and George Webb saw his shot deflected wide, before Luke Stone's shot from a corner was blocked. Westlands should have taken the lead, but blazed a good opportunity over the bar, before having another attempt kicked off the line.
But on 38 minutes the hosts were in front. A free-kick resulted in a scramble with the ball falling nicely and thumped in for 1-0 at half-time.
Westlands almost doubled the lead in the opening minutes of the second half when a header from a corner was hooked just wide. Then another chance was missed when a great cross from the right was blazed over the top.
Rec were struggling to create any chance of note and manager Kirk Grace gambled with a triple substitution.one of those subs, Sam Carter immediately won the ball and showed good skills, but blasted his shot over the bar, which was the same fate for Chris Bryer-Ash's 30 yard effort.
As time was ticking away Rec pushed forward and John Webb's free-kick found George Deem, only for his header to land on the roof of the net. The final chance fell to Stone, but his free-kick suffered the same fate as the others- high over the bar.
FT 1-0
10.10.20. League. Ham Rec 2 Bridport Res 1
Another three points for Rec, but this was mighty close against a young Bridport side who were down to the bare bones, with three players calling off on the morning of the game. Rec dominated at times, but were never at their best, with the final pass often letting them down. After a goalless first-half Rec went in front with an early second-half penalty. But the battling young Bees side fought back, only for Rec to notch a winner through Carl Edwards fourth goal of the season.
It was a largely forgettable first-half, with Rec continually denied by some good defending by the visitors. Jamie Davidson, John Webb and Rob Hatchard all went close, but Bridport, too, had their moments, only to be denied by some smart saves from Aaron Robertson, in the home goal. Edwards missed the best chance, right on half-time, firing wide when well placed. HT 0-0.
Within five minutes of the re-start Rec went in front. Edwards was brought down in the area and GEORGE WEBB stepped up to convert the penalty, for his sixth goal of the campaign.
On the hour Rec brought on sub Luke Stone for a welcome return to Magna Road and he immediately made his mark, setting up Edwards, only for his shot to be beaten away by the keeper.
But Bridport were beginning to push forward and missed a great chance with a free header, from a corner, going tamely wide before they equalised in the 75th minute. Following a scramble the ball ran loose and a great low shot from just inside the area made it 1-1.
But parity was short lived as Rec went straight down the other end and Stone and Webb combined to set up EDWARDS, who drilled his shot high into the net, to put Rec back in front.
Stone was showing his class with a good run and cross, beaten away for a corner and Sam Carter fired a chance over the bar and saw his header saved. But Bridport were not finished and a spell of pressure ended with a shot rattling the Rec bar and cleared for a corner, much to the home side's relief.
A bit of a struggle, but three precious points. FT 2-1.
3.10.20. Dorset Senior Trophy. Ham Rec 3 Sturminster Newton Utd 2
Rec are through to the second round of the Dorset Senior Trophy after this win against Stur. Newton. Rec played well in spells, but it was some way short of a top performance. The Magna Road pitch was in good condition, despite the heavy overnight and morning rain, passing an inspection at mid-day.
There was an early shock for the hosts as they fell behind after just two minutes. The Rec defence dithered and lost possession and a neat finish put the Cherries one up. But within ten minutes Rec were level, when a good build-up resulted in GRANT CORMACK finding the net, from the edge of the area - his first goal for the club. It was nearly two, but Sam Carter's chip was pushed away by the keeper, who was in fine form, pushing a fierce shot from John Webb onto the bar. Webb was in action again when he blazed over the bar from Carl Edwards' low cross, before the Stur keeper saved his side again with a tip-over from Edwards' shot. HT 1-1 Ten minutes into the second half Rec were in front. Richie Sands' low cross flashed across the face of goal and was bundled over the line at the far post for an own goal, to make it 2-1, despite Stur pleas that the ball had not crossed the line.
Rec were now getting on top, without really creating too many chances. George Deem saw his powerful shot sail just wide, before Rec made it three, on 68 minutes. Good play from Edwards saw his low cross fall nicely for WEBB to finish coolly and make it 3-1.
The plucky Stur side never gave up, without really troubling the home defence too often, but did net two minutes from time to make the score line more respectable.
FT 3-2. - Report by John Hutchings
26.9.20. League. Ham Rec 3 Merley Cobham Sports 4 A disappointing day for Rec as they fell to defeat against old rivals Merley Cobham. This was Rec's first league defeat in 31 matches and their first home defeat since January 2019 when Merley triumphed again. An awful first half for Rec saw them go in 0-3 down at the interval, but two goals early in the second period put them back in it. Carl Edwards was the goalscoring hero, grabbing a hat-trick for his first goals of the season.
Merley started the brighter and Aaron Robertson, in the home goal, was a busy man, punching away a free-kick and parrying another effort and it was no real surprise when the visitors went in front on 19 minutes with a neat left foot finish from Randall, from just inside the area.
It was nearly two soon after with Robertson producing a great block and another attempt flashing across the face of the Rec goal. But on 32 minutes the lead was doubled, when the home defence hesitated and Saxby drilled home for 0-2. Robertson pulled off another fine save before Merley were awarded a penalty, for handball, in the 39th minute. Groves duly despatched the spot-kick, to claim his customary goal against Rec. HT 0-3.
The game changed with Rec scoring two goals in as many minutes. On 52minutes Rikki Walden's shot was only parried by ex-Rec stopper Andy Knights and EDWARDS was on hand to bang in the loose ball and straight from the re-start great skills from Jamie Davidson saw his cross from the right slammed in at the far post by EDWARDS, to make it 2-3.
Rec were now playing more like their normal selves and Edwards almost made it three with a good attempt from distance. Davidson's left-footer was just over and John Webb was denied by Knights, before Merley steadied the ship. A header from a corner was only inches wide, before the two goal lead was restored. Rec failed to deal with a long throw and Groves was on hand to nod in at the far post, for 2-4. It was nearly five with another near miss from a header, before Rec set up a grandstand finish. Webb hit a through-ball for EDWARDS to strike a glorious shot over the keeper, to make it 3-4, with five minutes remaining.
Rec poured forward in search of an equaliser, but the visiting defence held firm for a vital win. FT 3-4.
19.9.20. League. Ham Rec 2 Portland United 2
Rec's first dropped points of the season as Portland proved to be very worthy opponents. The hosts never produced their normal form and offered little in terms of chances. They fell behind twice in the first-half, before a rather fortuitous second-half penalty earned them a point.
With Aaron Robertson unavailable Rec played first team assistant Brad Kendrick between the sticks and gave a debut to Grant Cormack and a second debut to Rob Hatchard.
Rec were soon on the back foot, going behind as early as the 5th minute when a Portland player latched on to a clearance and thumped a good shot over Kendrick and into the top corner for 0-1. Rec responded with a dangerous George Webb corner cleared, before they levelled. On 16 minutes a George Webb free-kick into the area was cleared, but only as far as JOHN WEBB, who duly despatched his shot from the edge of the area, to make it 1-1.
Portland were looking an accomplished side and caused problems for the home defence, before regaining the lead on the half-hour. A scramble ensued in the home penalty area resulting in a handball. The penalty was drilled in to put the Blues back in front - 1-2.
Back came Rec with George Webb showing good skills, but shooting just wide. Then the same player combined with Dave Legg, whose cross was headed over by George Deem.
But on 43 minutes came a defining moment. George Webb was shown a red card for comments to the ref and Rec were down to 10 men. Worse was to follow as Grant Cormack was sin-binned, leaving Rec with only 9 men.
The Blues nearly made it three right on the break, but the ball flashed across the face of goal, with no one getting a touch. HT 1-2.
Things got worse for Rec at the start of the second period when Legg was forced off with an injury. But on the hour it was 2-2 when Rec were awarded a penalty for an innocuous push. GEORGE DEEM converted at the second attempt.
Rec had a series of half-chances, with Cormack, Todd Coombs and Sam Carter all going close, but missing the target. Carter and Deem then combined with the latter seeing his shot pushed away.
Portland drew a good save from Kendrick, but were happy to see out the remaining minutes, despite having a man of their own sent off five minutes from time. FT 2-2.
12.9.20. League. Bournemouth Sports 0 Ham Rec 6
A second half five goal blast clinched an impressive win for Rec at Bournemouth Sports. The goal hero was George Webb, who helped himself to four, but it was a good all-round team performance. There was an early chance for Rec when George Webb's free-kick was headed wide by Jamie Davidson and another good move saw Richie Sands pass when a shot might have been better. Sports had the ball in the net, only to be denied by an offside flag, before Rec look the lead on 19 minutes. JOHN WEBB won the ball in midfield and unleashed a great shot from 25 yards, which the keeper could only flap at as it hit the top left-hand corner of the net.
George Deem tried a shot on the turn, which was just over, before Sports were denied by a vital block by Riki Walden.
Rec had chances to build on the lead, but Deem's shot was blocked and Walden fired over, following a corner. HT 0-1.
The game was settled within nine minutes of the re-start with three goals, all from George Webb. On 49 minutes Deem headed a cross back for GEORGE WEBB to finish in style and a minute later a goal keeping error presented the same player with a gift goal. And on 54 minutes GEORGE WEBB produced another classy finish, cutting inside and firing into the top right-hand corner, to make it 0-4.
Just 10 minutes later GEORGE WEBB was at it again - chasing a long through-ball, rounding the keeper and slotting home. He almost notched another soon after, but his free-kick rattled the bar.
Young Vinny Aga-In, on as a sub, was seeing plenty of the ball on the right and supplied a fine cross, only for Deem's header to strike the post. Then Joe Smith set up Todd Coombs, whose low shot was inches wide.
But in the final minute Deem burst down the left and drilled the ball over for AGA-IN to slam in at the far post. FT 0-6.
5.9.20. League. Sturminster Newton Utd 1 Ham Rec 6
Rec started the new season in confident style with a 6-1 win at Stur Newton. The visitors scored early on but had to wait until right on half-time to notch a second and despite an early second half set-back ran in four more to secure a comfortable win. The game was a triumph for George Deem, a late inclusion to the starting line-up, scoring two goals and putting in an impressive performance.
Rec were in front as early as the 8th minute, when George Webb delivered a perfect cross from the right, which was tucked away neatly at the far-post by DEEM for 0-1. The same two players combined again, with the home keeper saving this attempt. Stur's first attack of note was easily dealt with by Aaron Robertson, in the Rec goal.
Rec were playing some neat football, but were perhaps over-elaborating at times, in defence. George Webb saw his great shot from distance pushed away by the keeper, before his 30 yard free-kick was well saved. But two minutes from the interval the lead was doubled. A glorious long ball from Deem was well controlled and finished in style by JOSH PRATT. HT 0-2.
There was a blip for Rec right from the kick-off when an own goal made it 1-2, but on 53 minutes Rec scored their third. Pratt burst down the right and crossed for JAMIE DAVIDSON to stab in at the far-post. Deem then showed good skills and drew another fine save from the home keeper. To their credit Stur kept plugging away and had a good shout for a penalty turned down before Rec made it four. A run and cross by Carl Edwards found young sub, JOE SMITH, who finished in style for his first goal for the team. GEORGE WEBB was next on the scoresheet when he capitalised on a terrible error in the home defence and the scoring was complete in the last minute when DEEM grabbed a double with a neat low finish into the far corner.
FT 1-6.